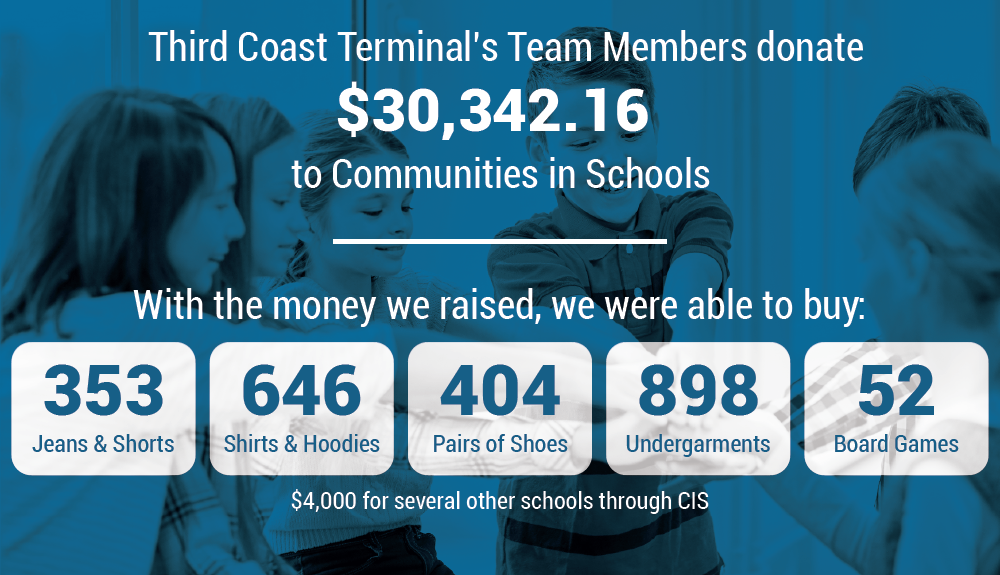 Students in Pearland Benefit from Third Coast Terminals Donation
Teachers and staff at EA Lawhon Elementary School in Pearland ISD were amazed at the initiative and generosity of Third Coast employees who decided to support a local organization that has a positive impact on their community. They chose Communities In Schools at Lawhon Elementary School.
The employees' original idea of purchasing sweatshirts for one hundred students identified by the school and the CIS site coordinator grew to the great surprise of the executive staff at Third Coast Terminals. They were able to collect nearly 250 sweatshirts!
At that point, they decided to raise money and purchase clothing, undergarments, shoes, etc. for students at Lawhon.
The departments in the company completed and used various techniques to raise money including a Las Vegas trip raffle, taco sales, and barbecue plates. Through their efforts, the company was able to raise over $15,000. The owner of Third Coast Terminals, Jim Clawson, Jr., generously agreed to match any amount of money that his employees raised, bringing the total donation to over $30,000.
Approximately $10,000 was used to purchase clothing, games, and shoes for the students at Lawhon Elementary School, the remaining dollars will be distributed evenly among the other five CIS schools in Pearland, Texas: Carleston Elementary, Cockrell Elementary, Jamison and Sablatura Middle School and Pearland Junior High South.