Contract Manufacturing
Third Coast has over 20 years of chemical production experience in the US Gulf Coast and abroad.
Contract Manufacturing
Contract Manufacturing is the dedicated, custom production of products using a customer's trade knowledge and intellectual property to manufacture products for them and their end customers. We work with you every step of the way to tailor manufacturing to meet your exact specifications on time, every time. Our dedicated team of commercial, technical, process, operations, design, maintenance and supply chain personnel work hand in hand with your experts to ensure that products arrive at your end customer's site safely, reliably, on time, profitably and as seamlessly as if they had been produced in your own plant.
Our Contract Manufacturing Process
Step 1 : Expression of Interest
The journey towards your success story begins with an expression of interest in manufacturing your product. Reach out to our Inside Sales team today for an introductory inquiry.
Step 2 : Information Exchange
After the initial contact, a meeting between you and the team can be arranged. In the meeting, a broad overview of the potential toll manufacturing project can be shared with our operational, technical and commercial functions. We will also share with you a general overview of the plant's successful history and diverse set of manufacturing capabilities.
Step 3 : Joint Non Disclosure Execution
We are committed to ensuring your IP remains exclusively yours. In this respect, a joint non-disclosure agreement will be executed between you and Third Coast before any IP is exchanged. This ensures the protection of your proprietary information, and ours.
Step 4 : Detailed Discussions
Once the non-disclosure agreement has been executed, a detailed discussion on the toll manufacturing project will commence. The discussions will center around manufacturing procedures, engineering designs, and modifications, cost and contractual terms, logistical arrangements, quality assurance, and safety evaluations.
Step 5 : Project Execution
The culmination of the journey lies in the final project execution. At this last stage, you will witness your raw materials being transformed into specification products in the safest, timely, and efficient manner.
Reaction Chemistry
Complete Reaction Services
Process Development
Our technical team can produce at lab scale (glassware) and pilot scale (300 gal) to assist in process development and refinement. We can then transition the learnings from these processes into full scale commercial production.
Market Development
Our capable production group can economically provide products for your customers in small quantities as is often required to generate market demand for new products.
Commercial Production
Third Coast will manufacture your product at full scale to help you meet the needs of your customers. Whether you require additional capacity to supplement a growing marketplace, or you don't have the capability to manufacture your product internally, Third Coast can fill your manufacturing gap.
Reaction Expertise
Our team is focused on execution in each of our services. We have skilled and knowledgeable technical staff capable of ensuring effective knowledge transfer and technological fidelity. We work in concert with our customers to evaluate and understand the process, and process sensitivities.
Our operations group has a strong record of quality and timely production. We accomplish this through our commitment to operating discipline, in depth hands on operator development, and a close working relationship between the technical and operations groups.
All processes in our reaction department will undergo rigorous PHA evaluation before being implemented in our facility.
Efficient Commercialization
Third Coast can begin producing in a matter of weeks or months in many cases, depending on the needs of your process. We can bring commercial scale to your technology in such a tight time frame thanks to our cooperative environment and flat close organizational structure.
Should your process require capital investment, we can leverage this same infrastructure, as well as our equipment supplier relationships to provide the necessary functional operating equipment at a surprising speed and economical cost.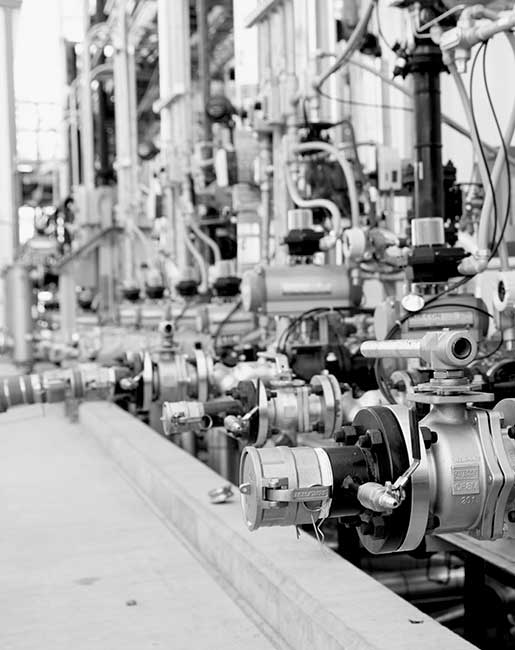 Filtration
Sparkler Filters with a laboratory model filter for pre-screening filtering operations, and a full-size plant model with a scale-up ratio of approximately 1 to 120 by filtration surface area. This horizontal plate filter is designed for polishing and securing the filtration of liquids with limited solids content. Both plant and lab model filters are capable of developing differential pressures to 50 PSID with plenty of safety margin below designed pressure ratings.
Third Coast is uniquely qualified to mix and process our customer's basic to complex chemical formulations into their final products. Our experience, facilities, and quality processes ensure that we exceed our customer's expectations.
Using our expertise, specialized equipment, and resources to complete your Toll Manufacturing is a great idea. Using our tools and experience is a much better alternative than a single company incurring the infrastructure cost, training cost, and time to gain expertise associated with mixing products in-house.
Then, add our custom packaging, storage, and logistics to this offer – and you can see why customers continue to seek us out for their chemical tolling needs.